Carlson Gracie Wine Country
Instructors
We cater our instruction to each student to craft successful competitors. Our coach to student ratio allows for a personalized training program and attentive instructors. You are not just a number at Carlson Gracie Wine Country Brazilian Jiu Jitsu. We're here to help you achieve your goals.
Carlson Gracie Wine Country
Instructors
Welcome to Carlson Gracie Wine Country, where excellence in Brazilian Jiu Jitsu is not just a promise – it's a commitment upheld by our exceptional team! Each of our instructors boast an extensive background in martial arts that culminates as the driving force behind the triumphs of our students. Embark on a transformative journey with the elite Carlson Gracie Wine Country Brazilian Jiu Jitsu team. We don't just teach; we ignite the potential within you. Whether you aspire to stand atop the podium as a champion or seek personal empowerment, our dedicated staff is here to make your goals a reality. At Carlson Gracie, we're not just a gym; we're a family. Regardless of your background, skill level, or age, you're not just joining a club – you're becoming a part of the Carlson Gracie legacy. Our mission is clear: to empower you with the skills and confidence that extend beyond the mat, influencing your everyday life. Join us, and let Carlson Gracie Wine Country redefine what you thought possible in Brazilian Jiu Jitsu. Your journey to greatness begins here!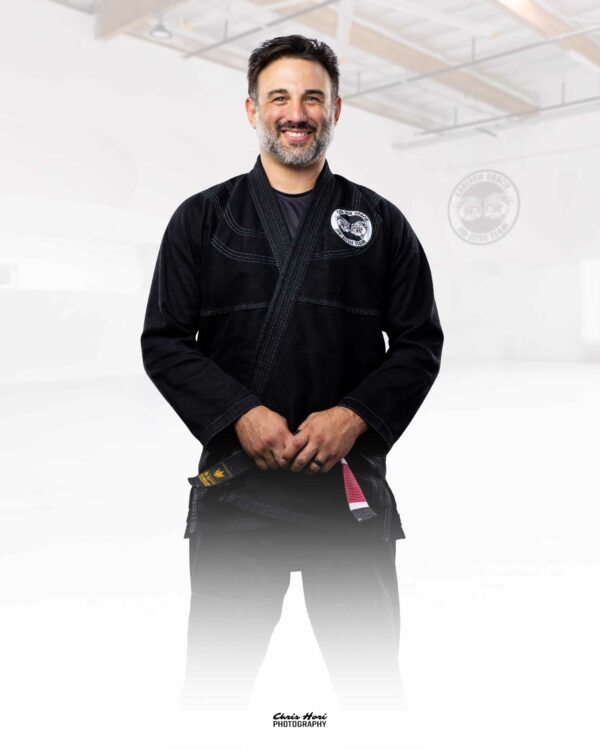 Black Belt
Salvatore Spinelli
1st Degree Black Belt under Tom Cronin
Salvatore Spinelli is a Co-Owner/Black Belt Instructor and active competitor who enjoys helping students reach their goals in competition and self defense skill in their Brazilian Jiu-Jitsu journey.
Salvatore has been avid student of all martial arts history and culture from and early age. His father studied Japanese JuJitsu and was an inspiration to learn self defense which in turn helped build confidence, focus and respect. Salvatore is very proud to also now have his own son, Leonardo, Age 5 on the mat as well.
As an adult, it is an honor to be able to provide a facility where others can now start or continue their own training in the martial art of Brazilian Jiu Jitsu.
– Black Belt in Brazilian Jiu Jitsu (Carlson Gracie Lineage) under Professor Thomas Cronin recognized by Carlson Gracie Jr.
– Black Sash Senior Instructor Kai Sai Wing Chun and Chinese Boxing under Sifu Ken Mills of Chinese Boxing Institute International.
– Katalong Assistant Instructor Filipino Martial Arts (Kali/Arnis/Eskrima) under Guro Darryl Vidal
Read More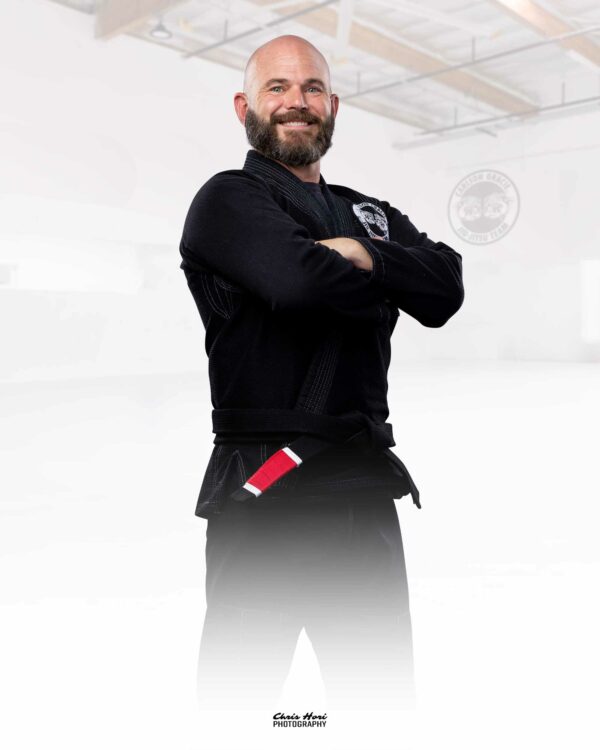 Black Belt
Asa Russell
1st Degree Black Belt under Tom Cronin
Professor Asa Russell is a Co-Owner/ Black Belt Instructor and a Brazilian Jiu Jitsu Black Belt who is dedicated to teaching the skills and techniques that he has attained over the years. He is a retired Marine, and due to his 25 years of service and changing duty stations, was fortunate to be a student of several diverse and distinguished Professors. He was promoted to Blue Belt By Professor Vitor Ribeiro, Promoted to Purple Belt under the daily instruction of Professor Nicholas Walters by Professor Gustavo Machado, Promoted to Brown Belt and Black Belt under Professor Ricardo Guimaraes.
Professor Asa considers himself to be a student first and continually works to expand and improve his own technique and knowledge. He is laser focused on providing quality fundamental instruction in a safe, positive and enriching atmosphere for his students, both adults and children. Since he was a Blue Belt, Professor Asa has volunteered nearly as many hours as a coach for the kids classes as he has dedicated to learning the art himself.
Professor Asa is certain that Brazilian Jiu Jitsu possess the power to have a positive impact on the lives of everyone it touches. His goal is to grow the local Jiu Jitsu community in order to bring this positive lifestyle to people of all ages, of all skill levels and all back grounds in order to enrich their individual lives.
Read More
The nicest and cleanest gym I've seen yet...lots of classes ranging from kids classes to adult classes... I also like the fact that you can get personal lessons and also the gym features No Gi classes as well... another thing that was amazing to me is you can sign up and get a free week of classes!!!
I was in town from Michigan and wanted to get some training in. I'm so glad I did. The instruction was excellent. As a beginner I felt that some parts were simple enough for me to understand while also going into intricate details for the more advanced students. CGWC were great hosts and it was a pleasure training there.
Carlson Gracie Wine Country is a great school if you are looking for a place to train. I dropped in to train here while visiting for work and was well received by everyone. Gene is a great instructor, and I could tell that he puts a lot of thought into his lessons. Great environment, great teacher, and clean mats.
Carlson Gracie Wine Country Brazilian Jiu Jitsu
Etiquette and Rules of CGWC
No jewelry
No make-up
No (fresh) hair dyes
No profanity
No bare feet off the mat
No water until breaks are given
No disruptive talking or horse play (children)
ALWAYS represent team in a positive manner (attitude and appearance)
ALWAYS wear a rash guard (try to avoid t-shirts because fingers can get caught)
ALWAYS practice good sportsmanship
please keep fingernails and toenails trimmed
please wash gi after every use
please use wipes for feet if dirty, prior to stepping on mat
please let instructor know if you feel sick and need to step out
please ask to use restroom
please stay on mat for water breaks
please remain seated on the mat against the wall if instructor asks you to sit out from sparring
please practice good hygiene (i.e. clean body, hair and oral hygiene)
(parents) please NO coaching from the sidelines!!
please bow before stepping on mat and when leaving mat
please address instructor(s) first when entering the mat if you are late
please use IBJJF belt appropriate submissions
please yield to the higher belt and move if you get too close to your neighbors
Sign up today to start your FREE week trial!